Custom Mini-Books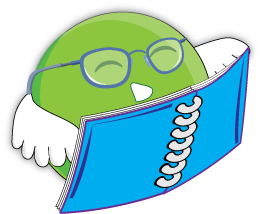 Terms & Agreements
Users who upload shared cliparts and photos on FuelTheBrain.com shall certify they are in public domain, as it is shown on the upload page. Please flag any content suspected otherwise. We have no other information concerning the status of the uploaded pictures and cliparts.
Using FuelTheBrain.com
You are allowed to use FuelTheBrain.com and any content provided by FuelTheBrain.com if you are 18 years or older or if your parent or guardian/teacher who is 18 years or older reads the entire terms listed on this page including disclaimers and agrees to all of them. If you or your parent or guardian/teacher do not agree to the entire terms listed on this page then you shall not use FuelTheBrain.com or any content provided by FuelTheBrain.com.
You shall not use FuelTheBrain.com to upload images to FuelTheBrain.com that will be used or characterized as:
derogatory, humliating or condescending towards any person, group of people, associations, organizations or corporations.
expressing hate towards any one or group.
adult content or advertises sexual activities even if it was legal in your state or country.
violating any US laws.
The terms listed here are subject to change without notice. If you upload content to FuelTheBrain.com, you hereby agree that it is your responsibility to continuously check the terms of use for updates. In the event that the terms change and you do not agree with the new terms, your user account will be suspended.
DISCLAIMER & NO WARRANTY
BECAUSE FuelTheBrain.com AND ITS CONTENTS ARE FREE OF CHARGE, WE PROVIDE ABSOLUTELY NO WARRANTY, TO THE EXTENT PERMITTED BY APPLICABLE STATE LAW. EXCEPT WHEN OTHERWISE STATED IN WRITING, FUELTHEBRAIN.COM AND ITS OWNERS PROVIDE THE CONTENT AND IMAGES 'AS IS' WITHOUT WARRANTY OF ANY KIND, EITHER EXPRESSED OR IMPLIED, INCLUDING, BUT NOT LIMITED TO, THE IMPLIED WARRANTIES OF MERCHANTABILITY AND FITNESS FOR A PARTICULAR PURPOSE. THE ENTIRE RISK AS TO THE QUALITY AND PERFORMANCE OF THE CONTENT IS WITH YOU. SHOULD ANY PART OF FUELTHEBRAIN.COM OR ITS CONTENT PROVE DEFECTIVE, OR NOT PUBLIC DOMAIN YOU ASSUME THE COST OF ALL NECESSARY SERVICING, REPAIR, CORRECTION AND OTHER COSTS THAT MIGHT HAPPEN TO YOU OR YOUR PRODUCT OR CLIENTS OR CUSTOMERS FROM USING CONTENT OR IMAGES FROM FUELTHEBRAIN.COM OR ANY DERIVATIVES OF YOUR WORK THAT INCLUDED OR WAS DERIVED FROM OUR CONTENT.
IN NO EVENT UNLESS REQUIRED BY APPLICABLE LAW WILL FUELTHEBRAIN.COM, IT'S OWNERS, BE LIABLE TO YOU FOR DAMAGES, INCLUDING ANY LOST PROFITS, LOST MONIES, OR OTHER SPECIAL, INCIDENTAL OR CONSEQUENTIAL DAMAGES ARISING OUT OF THE USE OR INABILITY TO USE (INCLUDING BUT NOT LIMITED TO LOSS OF DATA OR DATA BEING RENDERED INACCURATE OR LOSSES SUSTAINED BY THIRD PARTIES OR A FAILURE OF THE PICTURES/IMAGES/SOFTWARE TO OPERATE WITH ANY PROGRAMS) THE SITE OR ITS CONTENTS, EVEN IF YOU HAVE BEEN ADVISED OF THE POSSIBILITY OF SUCH DAMAGES, OR FOR ANY CLAIM BY ANY OTHER PARTY.
Uploading content
By uploading content you hereby declare your responsibility for what you upload and release FuelTheBrain.com from any liabilities and responibilities towards your upload. Simply, FuelTheBrain.com is just hosting your upload.
By uploading content, you certify that it is free from any copyrights and trademarks, and in case you are the copyright holder you hereby release it under the lastest version of the creative commons CCO public domain dedication found here. All uploads must not
a. Contain profanity words, or imply profanity by using gestures
b. Must not contain adult content or not safe for kids images
c. Must not contain photo pictures of tattoo, body piercing and other forms of body art
d. Must not show hatred or imply hatered to any group or ethnicity
e. Must not be discriminatory in any way
f. Must not violate any US laws including copyrights.
You may not upload any photos that contain identifiable living or recently deceased people unless the photo and context cannot be protected by personal privacy or publicity rights. For example, picture of prominant members of governments while doing their job are allowed, but pictures of your family and yourself are not allowed if people can be identified in the photos.
FuelTheBrain.com reserves the right to delete any content deemed unacceptable, and reserves the right to determine what content is acceptable even if you uploaded content that you believe complies with the upload policy. Any content that turns out to be copyright protected, will be deleted as soon as FuelTheBrain.com learns of it.
FuelTheBrain.com reserves the right to terminate any user account for repeated policy violations or for uploading copyright protected images.
By clicking continue you agree to these terms of use.